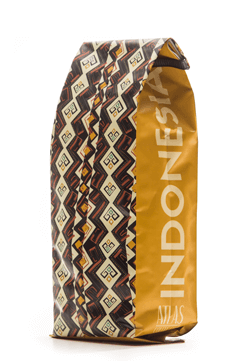 INDONESIA SUMATRA
Sold out
INDONESIAN SUMATRAN COFFEE
OUR INDONESIAN BATCH
Our Indonesian batch has sweet notes of chocolate, walnuts and a hint of tobacco. For those looking to experience the quintessentially famous taste of the Indonesian Island of Sumatra, look no further than our specialty batch.  
ABOUT THE REGION 
One of the most famous coffee growing regions in the world, Sumatra is the western-most island of Indonesia. Coffees from Sumatra are known for their smooth, sweet body that is both balanced and intense. The process from which the coffee is harvested and washed is called "giling basah" or wet hulling. This process reduces acidity and increases body, resulting in the classic Indonesian cup profile.
Our coffee comes in 12-oz vacuum sealed bags to guarantee freshness and is always roasted within the week before it is shipped to you.