MEDIA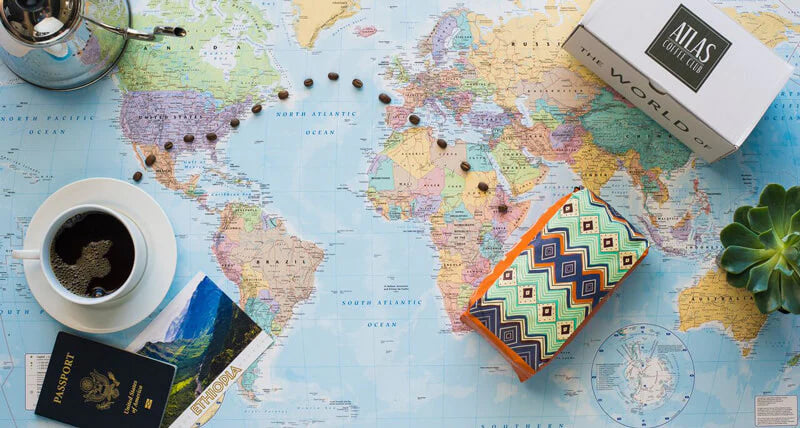 Atlas Coffee Club is​ a travel-themed coffee of the month club that explores the world's best coffee; Tanzania, Burundi, Congo, and beyond. Each month Atlas Coffee Club highlights a new coffee growing country and shows ​the unique ​differences in both ​taste ​and culture​.​distinctive to the​ each coffee region. Made to order to guarantee freshness, ​a subscription is the ultimate opportunity for organic flavor discovery and global variety.
Contact Info:
Co-Founder
E: Jordan@atlascoffeeclub.com
P: 512.522.1337
About Atlas Coffee Club:
Atlas Coffee Club serves as global coffee tour guides...
Created to ​share coffee from around the world​, Atlas Coffee Club delivers an experience you can't find on the shelves at your local grocery store. ​With over 50+ countries that produce delicious​ ​coffee offerings​, a​ subscription ​to Atlas Coffee Club delivers a journey in unique flavor discovery and culture from far off countries.
​From ​Tanzania, Ethiopia, Burundi and beyond, ​Atlas Coffee Club curate​s only​ the finest coffee​, paying above market prices to ensure ​th​at​ farms can produce high quality coffee year over year,​ ​and roast​s​ each batch to accentuate ​flavor profiles distinctive to the​ each coffee region. Made to order to guarantee freshness, ​a subscription is the ultimate opportunity for organic flavor discovery and global variety.
Reviews
"A Perfect Gift For A Coffee Lover."
"If you're a coffee Instagram enthusiast, keep the bag nearby—graphically gorgeous, colorful packaging reflects the beans' origins, inspired by local textiles and landscapes."
"They're bona fide experts on both bean and beverage."
The Austin American Statesman
"Atlas Coffee Club promises that they will curate some of the finest coffee from around the world, and they deliver on every word."
"10 Gifts for Your Colleagues and Clients. Hope You're Comfortable with the Title of 'Office Hero.'"
" As indicated by the artwork on the outside of their boxes, Atlas is really all about 'The World of Coffee.' Subscribing provides you with a new lens to experience places that you might not ever be able to visit. The journey through coffee is a great way to learn more about the world while experiencing excellent coffees."
"They find exotic blends that, like wine, bring out distinct flavors."
"A different variety of coffee bean sent to your doorstep each month—plus stellar packaging? Yes, please! We can't get enough of Atlas Coffee Club, a subscription service that delivers some of the best coffee in the world from places like Tanzania, Kenya, Guatemala, Colombia and beyond. The designs on each bag are inspired by the coffee's origin, and the front is free from any logos or text so as to not have any branding distractions for customers."
"Atlas Coffee Club know their business. For starters, they take the time to painstakingly curate micro-lots of coffee from some of the best coffee-growing regions around the world. Of course, traveling around sampling coffee is a pretty nice gig, if you ask us. But there's no doubt they put in the work with this one! They even continue to monitor and refine their roast profiles over time. It's not just a set-it-and-forget-it kind of operation."
"The In-Law Gift Guide. This coffee club offers three, six, and 12-month subscriptions that send batches of globally curated coffee straight to the recipient's door. Could you think of a better way to wake up?"
"Treat your mom to a global exploration of rich and varied coffee offerings from Costa Rica, Peru, Ethiopia, Indonesia and more."
"Unpacking your box from Atlas Coffee Club is akin to receiving a package from a friend located far away. It's a lot more exciting than simply ripping open your next bag of coffee from the supermarket and more interesting to read while you're waiting for your coffee to brew."
"A fun travel-themed subscription service that's great for an armchair traveler looking to try a range of coffees."
"The coffee is single-origin, which means you will get the taste unique to the region without any blends"
ABOUT MICHAEL SHEWMAKE & JORDAN ROSENACKER
"Shewmake and Rosenacker are full of ideas about the direction to take Atlas, like any founders of a startup business, and they spout their thoughts in high-energy bursts — as, perhaps, only two constantly caffeinated owners of a coffee company can."
Austin American Statesman